Store
Priced per ounce. 2oz minimum.
Blood Cleanser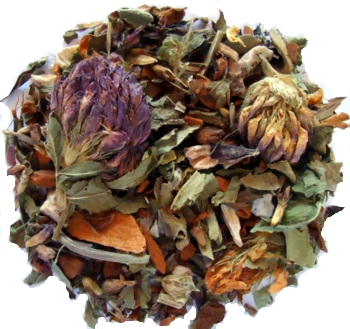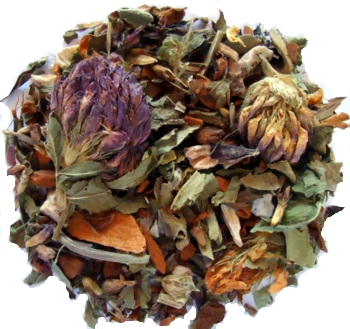 Blood Cleanser
Your blood is the life flow of your body. It feeds all other organs with oxygen and nutrients. Unfortunately, toxins that we ingest through pollution and unhealthy food and that we drink also collect in our blood. Over time, these toxins can contribute to emotional imbalances as well as stress and physical exhaustion. One solution championed by alternative health practitioners is regular detoxification through ingesting herbal tea.
 
Origin: multi origin
Reputed Health Benefits: Organic & Fair Trade Red Clover Blossoms Benefits to the heart and circulatory system include lowering total cholesterol, triglycerides and low-density lipoprotein (LDL, "bad" cholesterol) levels, all of which play a role in heart disease, while simultaneously raising high-density lipoprotein (HDL, "good" cholesterol) levels. Red clover may also boost the secretion of bile acid, which contains cholesterol. An increase in the amount of bile acid can lead to a decrease in blood cholesterol levels by taking the cholesterol out of circulation. Blood-thinning compounds called coumarins that are found in red clover may aid in preventing blood clots and reducing arterial plaques that can block the flow of blood through arteries and cause a heart attack or stroke. Red clover may also help to strengthen the arteries. Organic & Fair Trade Plantain Leaf fights blood poisoning, kidney and bladder infection. Organic & Fair Trade Burdock Root stimulates the excretory systems, helping them rid the body of toxins. , Organic & Fair Trade Sassafras Root promotes increased urine flow and helps to rid the kidneys and bladder of impurities, and this action also facilitates the flushing of uric acid and other toxins from the system, which makes it most useful in the treatment of gout, arthritis and rheumatic conditions. Moreover, these blood-cleansing qualities are also believed to make it an excellent treatment for all internally caused skin disorders such as acne, eczema and psoriasis.
Tasting Notes: Slightly spicy with a mellow nutty character.
Brewing Instructions: Steep 1 Tbsp per 8oz. Cup, 190 -200 degrees for 5-10 minutes. 3 cups a day for 2 week period. Also recommend drinking plenty of water.
Ingredients: Organic & Fair Trade Red Clover Blossoms, Organic & Fair Trade Plantain Leaf, Organic & Fair Trade Burdock Root, Organic & Fair Trade Sassafras Root